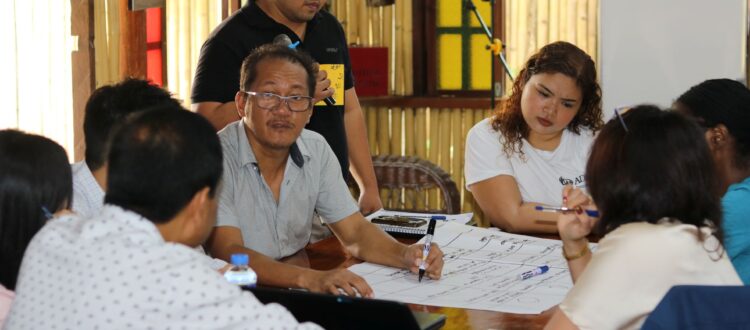 Webinar Series: Writing Successful Proposals
Building a Strong Concept Note for GAC
Are you working on a Concept Note or a Proposal for Global Affairs Canada?
Join Salanga for a free webinar on Tips and Tricks for a Successful Proposal for GAC.
When: Tuesday, July 13 at 01:30 PM Eastern Time
Spots are limited, so register today to attend.
In this webinar, Salanga's lead proposal writers will invite you into their proposal development kitchen and share some of the most effective ingredients of successful proposals funded by Global Affairs Canada.
Over the past 8 years, Salanga has led the proposal development process for several Canadian organizations for projects ranging between $1-28 million dollars (8 out of 9 submitted proposals were funded by Global Affairs Canada). In this webinar, we will unpack what makes a strong Concept Note and the common mistakes in the proposal development process. We will also share some of the tools we use for efficient project design and collaboration.
Salanga works with organizations to write proposals and strengthen their projects and is the proud founder of Kinaki an online MEL tool. Kinaki can be used for FREE by any individual or organization to develop their logic model and PMF. It is especially useful for teams who are working remotely to revise and update the logic model collaboratively during the proposal writing process.
This 1 hour webinar will give you tips on:
How to start the initial design (from selecting the right partners to high-level project focus).
How to approach information gathering and needs assessments
Why and how to structure a preliminary project Logic Model and performance indicators
Tools you can use for the project design and beyond
You'll also receive a tip sheet on writing your Theory of Change for GAC and can ask questions in the Q&A with someone from Salanga's Proposal Development Team.
Why should I attend this webinar?
If you're looking for some new tips and tricks to get you started on your latest proposal or concept note, this webinar's for you! While this webinar will specifically focus on the current call for proposal (2021 Call for Concept Notes – Development Impact Window – Canadian Small and Medium Organizations for Impact and Innovation), organizations and individuals working on other proposals for GAC or even other donors may also find it useful.
About Salanga
At Salanga, we inspire and enable people and organizations to improve their practices, so they can make positive and sustainable change in our world.
Salanga is a values-driven for-profit organization operating on social enterprise principles, providing capacity building, advisory, technical expertise and tools to non-profit, academic and public sector organizations and institutions.
Salanga is made up of a group of enthusiastic people motivated to inspire others. We build the capacities of organizations and individuals working in international development, humanitarian aid and social work.
We assist organizations with proposal development and project design. We help with anything from needs assessments and proposal writing to mock proposal evaluations. We have a proven track record of helping our partners secure funding.
Salanga is not associated with GAC and cannot and will not be presenting any official opinion by GAC. We will present based on our experience writing proposals for GAC.
To register, follow this link: https://us02web.zoom.us/meeting/register/tZwuf-qgrzsjHNN62YRV9IsJhs6YuGDqaDS8