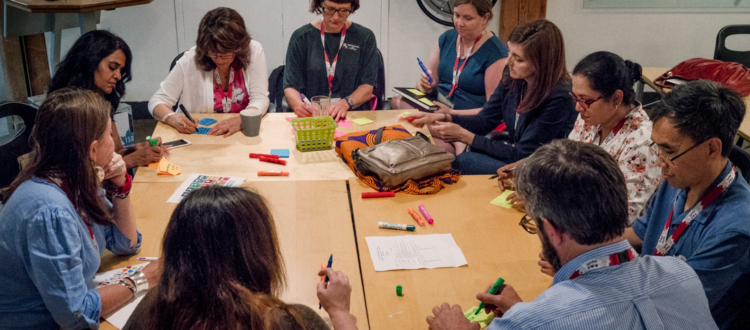 Making Monitoring, Evaluation & Learning Meaningful Workshop, in Partnership with OCIC
How to Learn from Your Data and Budget Properly
This training is in partnership with OCIC (Ontario Council for International Cooperation)
Do you dream of a day when you can move beyond using data mostly for reporting to donors? Are you inspired to use your data for real-time decision making and learning but need some ideas? Do you ever wonder what to include and how much to cost out for your monitoring, evaluation and learning activities? If so, this is the workshop for you! This interactive, practical workshop focuses on two of most important, yet misunderstood, skills needed in ME: learning and creating feedback loops from your data, and budgeting appropriately for MEL activities.
The first part of the workshop will focus on how to ensure information you collect makes a difference. Over 80% of the data collected from development projects is never analyzed or shared. So together we will explore different methods for sharing data with beneficiaries, management, different departmental teams and external stakeholders. Practical examples and tips will be shared amongst participants and together we will assess some of the goods, the bads and the possibilities of evidence-based decision making. The second part of the workshop will focus on how to easily identify and plan costs for different MEL activities within a project budget. We will talk through and engage in hands-on exercises to map out major components to budget for (from hardware to software to learning) and discuss some of the most frequently asked questions when it comes to budgeting for MEL. At the end of the day you will leave with practical ideas, new MEL friends and more enthusiasm for how to ensure MEL is meaningful to you and your organization.
When: November 3, 2017 9:00 am – 5:00 pm
Where: Centre for Social Innovation*, 192 Spadina Ave, Toronto, ON, Canada The Bigger Bolder Room (this training is not offered online)
Registration: Registration fees cover the costs of all materials, fair trade breaks and vegetarian lunches. Registration fees are based on a principle of equity, and are intended to reduce barriers to participation to smaller OCIC member organizations.
To register with early-bird rates, click here.
Partial Travel Subsidies are available for smaller OCIC member organizations in good standing, to support economy class travel. Please contact Lisa at admin@ocic.on.ca to apply.
Facilitator Bios
Paula Richardson: Paula is passionate about using data to make a difference. She has 15+ years in the development sector managing complex projects and building cutting-edge monitoring, evaluation and learning systems. She holds an M.A. in International Affairs, a B.A. Honours in International Development and Gender and further training on M&E and program management from Humber College, the International Program for Development Evaluation Training (IPDET), and the School of Oriental and African affairs (London, UK). She has expertise in Logic Models and Performance Measurement Frameworks, designing quantitative and qualitative data collection tools, data management and storage systems, and data analysis and interpretation of results. She's supported various organizations in improving their MEL systems including the Canadian Hunger Foundation, Canadian Feed the Children, WUSC, Save the Children, Plan, Humber College Business School, ADRA and USC Canada. Paula currently works as the MEL Program Lead for Salanga and the MEL Manager for USC Canada. Paula most recently co-led the Advanced Results-Based-Management course led by MOSAIC in Ottawa and presented on engaging beneficiaries in data collection and learning at the Canadian Evaluation Society Conference in Vancouver this summer.
Natalie Gagne: Natalie has 10+ years of experience working in the non-profit sector internationally and in Canada. Her skills and areas of specialization include project design and proposal development, project management and coordination, budgeting and work planning, narrative and financial reporting, monitoring and evaluation, results-based management, facilitation and training, participatory approaches, donor liaison and compliance. She has supported various organizations in improving project management through MEL work including Aga Khan Foundation, HIV/AIDS Alliance, WUSC, Ottawa Community Immigrant Services and College and Institutes Canada. Natalie currently works as the MEL Program Advisor at Salanga.
*This venue is wheelchair accessible, and LGBTQ Positive. Please provide details on any physical or dietary accommodations you may require, when you register.