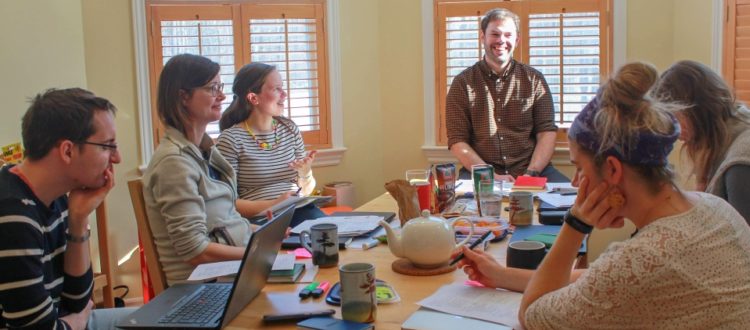 Salanga's Retreat in Canada
At the end of February 2020, Salanga organized a team retreat in Ottawa, Canada. Colleagues from Canada, Philippines, and the Czech Republic gathered together not only to work but also for team building (essential for a team that works most of the time remotely and which was enabled by admiration of tons of white snow and sun, cross-country skiing, etc.).
The week was very busy; many hours were spent on reflection of the work done in the past year that included the different projects accomplished, new partnerships developed, new Kinaki features, community-led MEL (ColMEL) development, etc., which eventually fed into the strategic planning for the upcoming months and helped prioritize our goals.
Part of the Retreat was also an exercise on better teamwork, as most of our work within our team and with our partners is done remotely. This exercise thus stimulated an in-depth discussion on our values, communication styles and how we relate to one another as team members. It provided an opportunity to discuss our personal assumptions and cultural differences, reflect on our WHY as well as Salanga's values and identity coming into 2020.
Further, the Retreat provided the opportunity for capacity building. A training session on GAC's Gender Based Analysis Plus (GBA +) approach, which is an essential part of most of our work, also allowed us the opportunity to reflect on issues of gender and sex and how they affect our own lives and approach to the work we do. We had also a chance to enjoy a great field trip to the Odawa Friendship Centre to learn about indigenous culture, which gave us an important chance to see, learn and reflect on how deeply – and in many diverse ways – culture is entwined with the Community-led approaches even within Canada. In short, the week was perfect, we enjoyed our colleagues, our talks, our planning, as well as the wonderful weather (of -17°C) and are ready for what the future brings. 😊 (We were fortunate to all return home to our respective countries safely, just as the world was beginning to more seriously respond to the COVID-19 crisis.)